Пакет: fonts-ibm-plex (2.0.0-2) [contrib]
Връзки за fonts-ibm-plex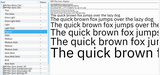 Ресурси за Debian:
Изтегляне на пакет-източник fonts-ibm-plex.
Отговорници:
Външни препратки:
Подобни пакети:
extensive typeface family designed by IBM
IBM Plex is an extensive font family developed by IBM. It comes in four subfamilies (Sans, Sans Condensed, Mono and Serif) and 8 weights (Thin, Extralight, Light, Regular, Text, Medium, Semibold, Bold), with true italics to complement them. A variable counterpart of IBM Plex Sans is also available
The four basic subfamilies support most of the languages using the Latin alphabet (including Vietnamese), the Cyrillic writing system and monotonic Greek. Other writing systems are supported by separate typefaces: Hebrew (including cantillation marks), Thai (both looped and loopless), Devanagari and Arabic.
There is also support for common mathematical and currency symbols as well as ligatures and stylistic alternates.
This package contains the TrueType (CFF) flavored OpenType fonts and the WOFF/WOFF2 web fonts.
Изтегляне на fonts-ibm-plex
Изтегляне за всички налични архитектури

| Архитектура | Големина на пакета | Големина след инсталиране | Файлове |
| --- | --- | --- | --- |
| all | 23 990,9 кБ | 39 622,0 кБ | [списък на файловете] |