Пакет: lynx (2.9.0dev.12-1)
Връзки за lynx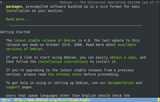 Ресурси за Debian:
Изтегляне на пакет-източник lynx.
Отговорници:
Външни препратки:
Подобни пакети:
classic non-graphical (text-mode) web browser
In continuous development since 1992, Lynx sets the standard for text-mode web clients. It is fast and simple to use, with support for browsing via FTP, Gopher, HTTP, HTTPS, NNTP, and the local file system.
Други пакети, свързани с lynx
rec:

mailcap

Debian's mailcap system, and support programs
Изтегляне на lynx
Изтегляне за всички налични архитектури

| Архитектура | Големина на пакета | Големина след инсталиране | Файлове |
| --- | --- | --- | --- |
| alpha (неофициална архитектура) | 629,9 кБ | 2 380,0 кБ | [списък на файловете] |
| amd64 | 622,2 кБ | 1 935,0 кБ | [списък на файловете] |
| arm64 | 560,7 кБ | 1 994,0 кБ | [списък на файловете] |
| armel | 538,2 кБ | 1 656,0 кБ | [списък на файловете] |
| armhf | 551,4 кБ | 1 272,0 кБ | [списък на файловете] |
| hppa (неофициална архитектура) | 536,0 кБ | 1 484,0 кБ | [списък на файловете] |
| i386 | 636,9 кБ | 1 886,0 кБ | [списък на файловете] |
| ia64 (неофициална архитектура) | 749,9 кБ | 3 636,0 кБ | [списък на файловете] |
| m68k (неофициална архитектура) | 579,1 кБ | 1 691,0 кБ | [списък на файловете] |
| mips64el | 538,1 кБ | 2 186,0 кБ | [списък на файловете] |
| mipsel | 539,1 кБ | 1 906,0 кБ | [списък на файловете] |
| ppc64 (неофициална архитектура) | 613,1 кБ | 2 442,0 кБ | [списък на файловете] |
| ppc64el | 647,1 кБ | 2 506,0 кБ | [списък на файловете] |
| riscv64 (неофициална архитектура) | 561,0 кБ | 1 700,0 кБ | [списък на файловете] |
| s390x | 567,1 кБ | 2 033,0 кБ | [списък на файловете] |
| sh4 (неофициална архитектура) | 707,2 кБ | 1 659,0 кБ | [списък на файловете] |
| sparc64 (неофициална архитектура) | 527,0 кБ | 2 258,0 кБ | [списък на файловете] |
| x32 (неофициална архитектура) | 624,5 кБ | 1 630,0 кБ | [списък на файловете] |