Пакет: nicotine (1.2.16+dfsg-1.1)
Връзки за nicotine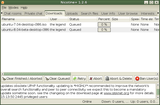 Ресурси за Debian:
Изтегляне на пакет-източник nicotine.
Отговорник:
Външни препратки:
Подобни пакети:
graphical client for the SoulSeek peer-to-peer system
Nicotine is a client for SoulSeek, a light and efficient file sharing system, written in Python and using the GTK2 toolkit, based on the PySoulSeek project.
It features uploading, downloading, searching and chatting, with strict bandwidth control, and tries to look like PySoulSeek.
Други пакети, свързани с nicotine
dep:

python

interactive high-level object-oriented language (Python2 version)

dep:

python-glade2

GTK+ bindings: Glade support

dep:

python-gtk2 (>= 2.10)

Python bindings for the GTK+ widget set
sug:

python-dbus

simple interprocess messaging system (Python interface)

sug:

python-gnome2

Пакетът не е наличен

sug:

python-gst0.10

generic media-playing framework (Python bindings)

sug:

python-psyco

Пакетът не е наличен

sug:

python-sexy

Пакетът не е наличен
Изтегляне на nicotine
Изтегляне за всички налични архитектури

| Архитектура | Големина на пакета | Големина след инсталиране | Файлове |
| --- | --- | --- | --- |
| all | 611,3 кБ | 3 794,0 кБ | [списък на файловете] |