Пакет: asciio (1.51.3-1)
Връзки за asciio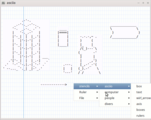 Ресурси за Debian:
Изтегляне на пакет-източник asciio.
Отговорник:
Външни препратки:
Подобни пакети:
dynamically create ASCII charts and graphs with GTK+2
This gtk2-perl application allows you to draw ASCII diagrams in a modern (but simple) graphical application. The ASCII graphs can be saved as ASCII or in a format that allows you to modify them later.
Други пакети, свързани с asciio
Изтегляне на asciio
Изтегляне за всички налични архитектури

| Архитектура | Големина на пакета | Големина след инсталиране | Файлове |
| --- | --- | --- | --- |
| all | 65,6 кБ | 387,0 кБ | [списък на файловете] |