Пакет: krename (5.0.0-1 и други)
Връзки за krename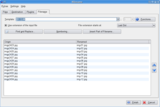 Ресурси за Debian:
Изтегляне на пакет-източник krename.
Отговорници:
Външни препратки:
Подобни пакети:
powerful batch renamer for KDE
KRename is a very powerful batch file renamer for KDE which can rename a list of files based on a set of expressions. It can copy/move the files to another directory or simply rename the input files.
Други пакети, свързани с krename
dep:

kde-runtime (>> 4:4.10) [m68k]

runtime components from the official KDE release

dep:

kio [не m68k]

resource and network access abstraction

dep:

libc0.1 (>= 2.17-91) [kfreebsd-i386]

GNU C Library: Shared libraries
също и виртуален пакет, предлаган от libc0.1-udeb

dep:

libc0.3 (>= 2.4) [hurd-i386]

GNU C Library: Shared libraries
също и виртуален пакет, предлаган от libc0.3-udeb

dep:

libc6.1 (>= 2.4) [alpha]

GNU C Library: Shared libraries
също и виртуален пакет, предлаган от libc6.1-udeb

dep:

libexiv2-12 [m68k]

Пакетът не е наличен

dep:

libexiv2-14 [riscv64]

EXIF/IPTC/XMP metadata manipulation library

dep:

libexiv2-14 (>= 0.25) [не m68k, riscv64]

dep:

libfreetype6 (>= 2.2.1)

FreeType 2 font engine, shared library files

dep:

libgcc1 (>= 1:3.0) [не alpha, armel, armhf, hppa, m68k, riscv64, sh4, sparc64]

GCC support library

dep:

libgcc1 (>= 1:3.4) [alpha, riscv64, sh4, sparc64]

dep:

libgcc1 (>= 1:3.5) [armel, armhf]

dep:

libgcc2 (>= 4.2.1) [m68k]

GCC support library

dep:

libgcc4 (>= 4.1.1) [hppa]

GCC support library

dep:

libkdecore5 (>= 4:4.4.4) [m68k]

KDE Platform Core Library

dep:

libkdeui5 (>= 4:4.4.4) [m68k]

KDE Platform User Interface Library

dep:

libkf5completion5 (>= 4.97.0) [не m68k]

Widgets with advanced auto-completion features.

dep:

libkf5configcore5 (>= 4.97.0) [не m68k]

configuration settings framework for Qt

dep:

libkf5coreaddons5 (>= 5.16.0) [не m68k]

KDE Frameworks 5 addons to QtCore

dep:

libkf5crash5 (>= 5.15.0) [не m68k]

Support for application crash analysis and bug report from apps

dep:

libkf5i18n5 (>= 4.97.0) [не m68k]

Advanced internationalization framework.

dep:

libkf5iconthemes5 (>= 4.96.0) [не m68k]

Support for icon themes.

dep:

libkf5itemviews5 (>= 4.96.0) [не m68k]

Qt library with additional widgets for ItemModels

dep:

libkf5jobwidgets5 (>= 4.96.0) [не m68k]

Widgets for tracking KJob instances

dep:

libkf5jsapi5 (>= 4.96.0) [не m68k]

Support for JS scripting in Qt applications

dep:

libkf5kiocore5 (>= 5.3.0+git20141016.0314) [не m68k]

resource and network access abstraction (KIO core library)

dep:

libkf5kiofilewidgets5 (>= 4.96.0) [не m68k]

resource and network access abstraction (KIO file widgets library)

dep:

libkf5kiowidgets5 (>= 4.96.0) [не m68k]

resource and network access abstraction (KIO widgets library)

dep:

libkf5service-bin [не m68k]

Advanced plugin and service introspection

dep:

libkf5service5 (>= 4.96.0) [не m68k]

Advanced plugin and service introspection

dep:

libkf5widgetsaddons5 (>= 4.96.0) [не m68k]

add-on widgets and classes for applications that use the Qt Widgets module

dep:

libkf5xmlgui5 (>= 4.98.0) [не m68k]

User configurable main windows.

dep:

libkio5 (>= 4:4.4.4) [m68k]

Network-enabled File Management Library for the KDE Platform

dep:

libkjsapi4 (>= 4:4.4.4) [m68k]

KJS API Library for the KDE Development Platform

dep:

libpodofo0.9.0 [m68k]

PoDoFo - library to work with the PDF file format

dep:

libpodofo0.9.5 (>= 0.9.5-7) [powerpcspe]

Пакетът не е наличен

dep:

libpodofo0.9.6 [не m68k, powerpcspe, x32]

PoDoFo - library to work with the PDF file format

dep:

libpodofo0.9.6 (>= 0.9.6+dfsg) [x32]

dep:

libqt5core5a (>= 5.11.0~rc1) [amd64, i386, kfreebsd-i386, x32]

Qt 5 core module

dep:

libqt5core5a (>= 5.5.0) [не amd64, i386, kfreebsd-i386, m68k, x32]

dep:

libqt5gui5 (>= 5.7.0) [не m68k]

Qt 5 GUI module

dep:

libqt5widgets5 (>= 5.11.0~rc1) [не alpha, m68k, powerpcspe]

Qt 5 widgets module

dep:

libqt5widgets5 (>= 5.6.0~beta) [alpha, powerpcspe]

dep:

libqt5xml5 (>= 5.0.2) [не m68k]

Qt 5 XML module

dep:

libqtcore4 (>= 4:4.7.0~beta1) [m68k]

Qt 4 core module

dep:

libqtgui4 (>= 4:4.5.3) [m68k]

Qt 4 GUI module

dep:

libstdc++6 [riscv64]

GNU Standard C++ Library v3

dep:

libstdc++6 (>= 4.1.1) [m68k]

dep:

libstdc++6 (>= 5.2) [не hurd-i386, m68k, riscv64]

dep:

libstdc++6 (>= 8.2.0-8) [hurd-i386]

dep:

libtag1c2a (>= 1.5) [m68k]

audio meta-data library

dep:

libtag1v5 (>= 1.9.1-2.2~) [не m68k]

audio meta-data library
Изтегляне на krename
Изтегляне за всички налични архитектури

| Архитектура | Версия | Големина на пакета | Големина след инсталиране | Файлове |
| --- | --- | --- | --- | --- |
| alpha (неофициална архитектура) | 5.0.0-1+b1 | 407,5 кБ | 2 393,0 кБ | [списък на файловете] |
| amd64 | 5.0.0-1+b1 | 419,4 кБ | 2 069,0 кБ | [списък на файловете] |
| arm64 | 5.0.0-1+b1 | 387,3 кБ | 2 063,0 кБ | [списък на файловете] |
| armel | 5.0.0-1+b1 | 374,2 кБ | 1 930,0 кБ | [списък на файловете] |
| armhf | 5.0.0-1+b1 | 383,4 кБ | 1 770,0 кБ | [списък на файловете] |
| hppa (неофициална архитектура) | 5.0.0-1+b1 | 421,1 кБ | 2 226,0 кБ | [списък на файловете] |
| hurd-i386 | 5.0.0-1+b1 | 445,0 кБ | 2 108,0 кБ | [списък на файловете] |
| i386 | 5.0.0-1+b1 | 440,1 кБ | 2 112,0 кБ | [списък на файловете] |
| kfreebsd-i386 | 5.0.0-1 | 444,5 кБ | 2 107,0 кБ | [списък на файловете] |
| m68k (неофициална архитектура) | 4.0.9-3 | 286,2 кБ | 1 315,0 кБ | [списък на файловете] |
| mips | 5.0.0-1+b1 | 373,9 кБ | 2 282,0 кБ | [списък на файловете] |
| mips64el | 5.0.0-1+b1 | 380,7 кБ | 2 335,0 кБ | [списък на файловете] |
| mipsel | 5.0.0-1+b1 | 382,2 кБ | 2 282,0 кБ | [списък на файловете] |
| powerpcspe (неофициална архитектура) | 5.0.0-1 | 383,1 кБ | 2 079,0 кБ | [списък на файловете] |
| ppc64 (неофициална архитектура) | 5.0.0-1+b1 | 411,2 кБ | 2 417,0 кБ | [списък на файловете] |
| ppc64el | 5.0.0-1+b1 | 414,9 кБ | 2 341,0 кБ | [списък на файловете] |
| riscv64 (неофициална архитектура) | 5.0.0-1+b1 | 404,2 кБ | 1 922,0 кБ | [списък на файловете] |
| s390x | 5.0.0-1+b1 | 381,3 кБ | 2 110,0 кБ | [списък на файловете] |
| sh4 (неофициална архитектура) | 5.0.0-1+b1 | 471,4 кБ | 2 050,0 кБ | [списък на файловете] |
| sparc64 (неофициална архитектура) | 5.0.0-1+b1 | 366,8 кБ | 2 188,0 кБ | [списък на файловете] |
| x32 (неофициална архитектура) | 5.0.0-1+b1 | 420,1 кБ | 2 003,0 кБ | [списък на файловете] |