Пакет: knemo (0.7.6-2) [debports]
Връзки за knemo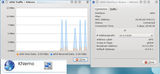 Ресурси за Debian:
Изтегляне на пакет-източник .
Няма съвпадения
Отговорници:
Външни препратки:
Подобни пакети:
network interfaces monitor for KDE's systray
KNemo displays for every network interface an icon in the systray. Tooltips and an info dialog provide further information about the interface. Passive popups inform about interface changes. A traffic plotter is also integrated.
knemo polls the network interface status every second.
Други пакети, свързани с knemo
Изтегляне на knemo
Изтегляне за всички налични архитектури

| Архитектура | Големина на пакета | Големина след инсталиране | Файлове |
| --- | --- | --- | --- |
| arm64 (неофициална архитектура) | 627,0 кБ | 2 359,0 кБ | [списък на файловете] |