Пакет: kiten (4:17.08.3-1)
Връзки за kiten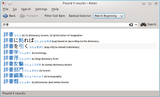 Ресурси за Debian:
Изтегляне на пакет-източник kiten.
Отговорници:
Външни препратки:
Подобни пакети:
Japanese reference and study aid for KDE
Kiten is a collection of Japanese reference tools and study aids for KDE, including a Japanese/English dictionary, Kanji dictionary, and Kanji quiz.
This package is part of the KDE education module.
Други пакети, свързани с kiten
Изтегляне на kiten
Изтегляне за всички налични архитектури

| Архитектура | Големина на пакета | Големина след инсталиране | Файлове |
| --- | --- | --- | --- |
| alpha (неофициална архитектура) | 11 415,8 кБ | 32 465,0 кБ | [списък на файловете] |
| amd64 | 11 418,8 кБ | 32 368,0 кБ | [списък на файловете] |
| arm64 | 11 405,6 кБ | 32 371,0 кБ | [списък на файловете] |
| armel | 11 404,7 кБ | 32 286,0 кБ | [списък на файловете] |
| armhf | 11 407,9 кБ | 32 218,0 кБ | [списък на файловете] |
| hppa (неофициална архитектура) | 11 420,4 кБ | 32 395,0 кБ | [списък на файловете] |
| hurd-i386 | 11 430,4 кБ | 32 374,0 кБ | [списък на файловете] |
| i386 | 11 431,1 кБ | 32 374,0 кБ | [списък на файловете] |
| kfreebsd-amd64 | 11 419,7 кБ | 32 368,0 кБ | [списък на файловете] |
| kfreebsd-i386 | 11 430,6 кБ | 32 374,0 кБ | [списък на файловете] |
| m68k (неофициална архитектура) | 11 411,3 кБ | 32 326,0 кБ | [списък на файловете] |
| mips | 11 405,4 кБ | 32 378,0 кБ | [списък на файловете] |
| mips64el | 11 410,4 кБ | 32 430,0 кБ | [списък на файловете] |
| mipsel | 11 408,0 кБ | 32 378,0 кБ | [списък на файловете] |
| powerpcspe (неофициална архитектура) | 11 405,3 кБ | 32 482,0 кБ | [списък на файловете] |
| ppc64 (неофициална архитектура) | 11 410,1 кБ | 32 628,0 кБ | [списък на файловете] |
| ppc64el | 11 411,8 кБ | 32 615,0 кБ | [списък на файловете] |
| riscv64 (неофициална архитектура) | 11 401,7 кБ | 32 283,0 кБ | [списък на файловете] |
| s390x | 11 411,5 кБ | 32 419,0 кБ | [списък на файловете] |
| sh4 (неофициална архитектура) | 11 430,9 кБ | 32 295,0 кБ | [списък на файловете] |
| sparc64 (неофициална архитектура) | 11 403,1 кБ | 32 423,0 кБ | [списък на файловете] |
| x32 (неофициална архитектура) | 11 420,6 кБ | 32 309,0 кБ | [списък на файловете] |