Пакет: japa (0.8.4-2)
Връзки за japa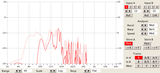 Ресурси за Debian:
Изтегляне на пакет-източник japa.
Отговорници:
Външни препратки:
Подобни пакети:
JACK and ALSA Perceptual Analyser
Japa, is a 'perceptual' or 'psychoacoustic' audio spectrum analyser. Possible uses include spectrum monitoring while mixing or mastering, evaluation of ambient noise, and (using pink noise) equalisation of PA systems.
It supports up to four audio inputs of which two can graphically be compared. Additionally a pink noise and white noise generator is running after starting japa.
Други пакети, свързани с japa
Изтегляне на japa
Изтегляне за всички налични архитектури

| Архитектура | Големина на пакета | Големина след инсталиране | Файлове |
| --- | --- | --- | --- |
| alpha (неофициална архитектура) | 36,2 кБ | 120,0 кБ | [списък на файловете] |
| amd64 | 34,8 кБ | 103,0 кБ | [списък на файловете] |
| arm64 | 33,7 кБ | 99,0 кБ | [списък на файловете] |
| armel | 30,8 кБ | 90,0 кБ | [списък на файловете] |
| armhf | 30,8 кБ | 74,0 кБ | [списък на файловете] |
| hppa (неофициална архитектура) | 37,7 кБ | 104,0 кБ | [списък на файловете] |
| i386 | 35,4 кБ | 98,0 кБ | [списък на файловете] |
| m68k (неофициална архитектура) | 29,5 кБ | 93,0 кБ | [списък на файловете] |
| mips | 36,2 кБ | 110,0 кБ | [списък на файловете] |
| mips64el | 36,2 кБ | 121,0 кБ | [списък на файловете] |
| mipsel | 36,5 кБ | 110,0 кБ | [списък на файловете] |
| powerpcspe (неофициална архитектура) | 36,4 кБ | 158,0 кБ | [списък на файловете] |
| ppc64 (неофициална архитектура) | 35,2 кБ | 159,0 кБ | [списък на файловете] |
| ppc64el | 36,4 кБ | 159,0 кБ | [списък на файловете] |
| riscv64 (неофициална архитектура) | 35,3 кБ | 96,0 кБ | [списък на файловете] |
| s390x | 34,0 кБ | 111,0 кБ | [списък на файловете] |
| sh4 (неофициална архитектура) | 39,5 кБ | 98,0 кБ | [списък на файловете] |
| sparc64 (неофициална архитектура) | 30,9 кБ | 99,0 кБ | [списък на файловете] |
| x32 (неофициална архитектура) | 34,6 кБ | 94,0 кБ | [списък на файловете] |