Пакет: git-cola (3.2-1)
Връзки за git-cola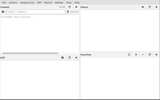 Ресурси за Debian:
Изтегляне на пакет-източник git-cola.
Отговорник:
Външни препратки:
Подобни пакети:
highly caffeinated git GUI
Git-cola is a git GUI optimized for working with the git index.
Git-cola can compare arbitrary commits using standard merge tools. With it you can search commit messages, content, authors, paths, data ranges etc. and it makes it easy to interactively edit the index.
Други пакети, свързани с git-cola
rec:

gitk

fast, scalable, distributed revision control system (revision tree visualizer)

rec:

xxdiff

graphical file/directory comparison and merge tool
Изтегляне на git-cola
Изтегляне за всички налични архитектури

| Архитектура | Големина на пакета | Големина след инсталиране | Файлове |
| --- | --- | --- | --- |
| all | 687,4 кБ | 3 043,0 кБ | [списък на файловете] |