Пакет: eom (1.24.0-1 и други)
Връзки за eom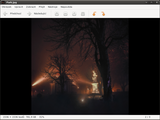 Ресурси за Debian:
Изтегляне на пакет-източник eom.
Отговорници:
Външни препратки:
Подобни пакети:
Eye of MATE graphics viewer program
eom or the Eye of MATE is a simple graphics viewer for the MATE desktop which uses the gdk-pixbuf library. It can deal with large images, and zoom and scroll with constant memory usage. Its goals are simplicity and standards compliance.
Други пакети, свързани с eom
Изтегляне на eom
Изтегляне за всички налични архитектури

| Архитектура | Версия | Големина на пакета | Големина след инсталиране | Файлове |
| --- | --- | --- | --- | --- |
| alpha (неофициална архитектура) | 1.24.0-1 | 197,3 кБ | 762,0 кБ | [списък на файловете] |
| amd64 | 1.24.0-1 | 197,3 кБ | 635,0 кБ | [списък на файловете] |
| arm64 | 1.24.0-1 | 181,7 кБ | 627,0 кБ | [списък на файловете] |
| armel | 1.24.0-1 | 168,8 кБ | 533,0 кБ | [списък на файловете] |
| armhf | 1.24.0-1 | 170,4 кБ | 437,0 кБ | [списък на файловете] |
| hppa (неофициална архитектура) | 1.24.0-1 | 191,5 кБ | 675,0 кБ | [списък на файловете] |
| i386 | 1.24.0-1 | 213,2 кБ | 685,0 кБ | [списък на файловете] |
| m68k (неофициална архитектура) | 1.24.0-1 | 184,5 кБ | 597,0 кБ | [списък на файловете] |
| mips64el | 1.24.0-1 | 169,1 кБ | 675,0 кБ | [списък на файловете] |
| mipsel | 1.24.0-1 | 173,5 кБ | 662,0 кБ | [списък на файловете] |
| powerpcspe (неофициална архитектура) | 1.20.2-2 | 162,4 кБ | 806,0 кБ | [списък на файловете] |
| ppc64 (неофициална архитектура) | 1.24.0-1 | 205,8 кБ | 1 057,0 кБ | [списък на файловете] |
| ppc64el | 1.24.0-1 | 203,6 кБ | 991,0 кБ | [списък на файловете] |
| riscv64 (неофициална архитектура) | 1.24.0-1 | 169,9 кБ | 501,0 кБ | [списък на файловете] |
| s390x | 1.24.0-1 | 181,2 кБ | 659,0 кБ | [списък на файловете] |
| sh4 (неофициална архитектура) | 1.20.2-2 | 193,6 кБ | 546,0 кБ | [списък на файловете] |
| sparc64 (неофициална архитектура) | 1.24.0-1 | 166,2 кБ | 622,0 кБ | [списък на файловете] |
| x32 (неофициална архитектура) | 1.24.0-1 | 198,2 кБ | 589,0 кБ | [списък на файловете] |