Пакет: cyphesis-cpp (0.6.2-3 и други)
Връзки за cyphesis-cpp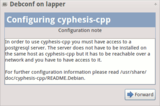 Ресурси за Debian:
Изтегляне на пакет-източник cyphesis-cpp.
Отговорници:
Външни препратки:
Подобни пакети:
WorldForge game server
Cyphesis-C++ is a game server from the WorldForge project. Multiple users/clients can connect to it to play roleplaying games online. This server provides world data and computes the interaction between the players and the world.
Други пакети, свързани с cyphesis-cpp
Изтегляне на cyphesis-cpp
Изтегляне за всички налични архитектури

| Архитектура | Версия | Големина на пакета | Големина след инсталиране | Файлове |
| --- | --- | --- | --- | --- |
| alpha (неофициална архитектура) | 0.6.2-3+b1 | 761,1 кБ | 2 819,0 кБ | [списък на файловете] |
| amd64 | 0.6.2-3+b1 | 786,7 кБ | 2 396,0 кБ | [списък на файловете] |
| arm64 | 0.6.2-3+b1 | 724,6 кБ | 2 263,0 кБ | [списък на файловете] |
| armel | 0.6.2-3+b1 | 656,5 кБ | 1 969,0 кБ | [списък на файловете] |
| armhf | 0.6.2-3+b1 | 689,7 кБ | 1 549,0 кБ | [списък на файловете] |
| hppa (неофициална архитектура) | 0.6.2-3+b1 | 742,8 кБ | 2 268,0 кБ | [списък на файловете] |
| i386 | 0.6.2-3+b1 | 830,9 кБ | 2 498,0 кБ | [списък на файловете] |
| m68k (неофициална архитектура) | 0.6.2-3+b1 | 780,4 кБ | 2 345,0 кБ | [списък на файловете] |
| mips | 0.6.2-3+b1 | 696,5 кБ | 2 749,0 кБ | [списък на файловете] |
| mips64el | 0.6.2-3+b1 | 701,1 кБ | 2 865,0 кБ | [списък на файловете] |
| mipsel | 0.6.2-3+b1 | 706,1 кБ | 2 745,0 кБ | [списък на файловете] |
| powerpcspe (неофициална архитектура) | 0.6.2-3+b1 | 729,3 кБ | 2 490,0 кБ | [списък на файловете] |
| ppc64 (неофициална архитектура) | 0.6.2-3+b1 | 805,5 кБ | 3 075,0 кБ | [списък на файловете] |
| ppc64el | 0.6.2-3+b1 | 807,4 кБ | 2 819,0 кБ | [списък на файловете] |
| riscv64 (неофициална архитектура) | 0.6.2-3+b1 | 756,8 кБ | 1 968,0 кБ | [списък на файловете] |
| s390x | 0.6.2-3+b1 | 716,5 кБ | 2 439,0 кБ | [списък на файловете] |
| sh4 (неофициална архитектура) | 0.6.2-3+b1 | 932,7 кБ | 2 259,0 кБ | [списък на файловете] |
| sparc64 (неофициална архитектура) | 0.6.2-3+b1 | 658,9 кБ | 2 291,0 кБ | [списък на файловете] |
| x32 (неофициална архитектура) | 0.6.2-3+b1 | 796,9 кБ | 2 242,0 кБ | [списък на файловете] |