Пакет: sylpheed (3.5.0~beta1~r3426-1)
Връзки за sylpheed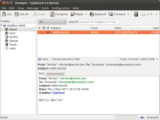 Ресурси за Debian:
Изтегляне на пакет-източник sylpheed.
Отговорник:
Външни препратки:
Подобни пакети:
Light weight e-mail client with GTK+
Sylpheed is an e-mail client which aims for:

 * Quick response
 * Graceful, and sophisticated interface
 * Easy configuration, intuitive operation
 * Abundant features

The appearance and interface are similar to some popular e-mail clients for Windows, such as Outlook Express or so. The interface is also designed to emulate the mailers on Emacsen, and almost all commands are accessible with the keyboard.
Други пакети, свързани с sylpheed