Пакет: postfixadmin (2.3.7-1)
Връзки за postfixadmin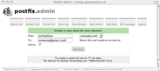 Ресурси за Debian:
Изтегляне на пакет-източник postfixadmin.
Отговорници:
Външни препратки:
Подобни пакети:
Virtual mail hosting interface for Postfix
Postfixadmin is a web interface to manage virtual users and domains for a Postfix mail transport agent. It supports Virtual mailboxes, aliases, forwarders and vacation.
Postfixadmin allows administrators to delegate account handling to domain administrators and allows users to login and change their own settings (e.g. forwarders, vacation, passwords etc).
It provides easy integration into dovecot, courier or cyrus.
Postfixadmin is written in PHP.
Други пакети, свързани с postfixadmin
Изтегляне на postfixadmin
Изтегляне за всички налични архитектури

| Архитектура | Големина на пакета | Големина след инсталиране | Файлове |
| --- | --- | --- | --- |
| all | 805,5 кБ | 2 293,0 кБ | [списък на файловете] |