Пакет: qhimdtransfer (0.9.16-2)
Връзки за qhimdtransfer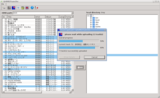 Ресурси за Debian:
Изтегляне на пакет-източник linux-minidisc.
Отговорник:
Външни препратки:
Подобни пакети:
Transfer software for HiMD Walkman
qhimdtransfer is a simple graphical user interface application for accessing MiniDisc devices. Currently, qhimdtransfer supports HiMD devices only through libhimd. Support for NetMD devices through libnetmd is being planned and implemented by upstream for the next releases.
Други пакети, свързани с qhimdtransfer
Изтегляне на qhimdtransfer
Изтегляне за всички налични архитектури

| Архитектура | Големина на пакета | Големина след инсталиране | Файлове |
| --- | --- | --- | --- |
| amd64 | 341,8 кБ | 684,0 кБ | [списък на файловете] |
| arm64 | 338,4 кБ | 689,0 кБ | [списък на файловете] |
| armel | 329,4 кБ | 630,0 кБ | [списък на файловете] |
| armhf | 330,4 кБ | 590,0 кБ | [списък на файловете] |
| i386 | 349,6 кБ | 682,0 кБ | [списък на файловете] |
| mips | 341,3 кБ | 728,0 кБ | [списък на файловете] |
| mips64el | 343,6 кБ | 758,0 кБ | [списък на файловете] |
| mipsel | 343,0 кБ | 728,0 кБ | [списък на файловете] |
| ppc64el | 344,6 кБ | 756,0 кБ | [списък на файловете] |
| s390x | 337,3 кБ | 709,0 кБ | [списък на файловете] |