Пакет: kompare (4:18.08.1-1)
Връзки за kompare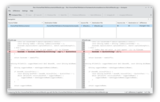 Ресурси за Debian:
Изтегляне на пакет-източник kompare.
Отговорници:
Външни препратки:
Подобни пакети:
file difference viewer
Kompare displays the differences between files. It can compare the contents of files or directories, as well as create, display, and merge patch files.
This package is part of the KDE Software Development Kit module.
Други пакети, свързани с kompare
Изтегляне на kompare
Изтегляне за всички налични архитектури

| Архитектура | Големина на пакета | Големина след инсталиране | Файлове |
| --- | --- | --- | --- |
| mips | 655,6 кБ | 2 344,0 кБ | [списък на файловете] |