Пакет: mate-panel (1.20.5-1)
Връзки за mate-panel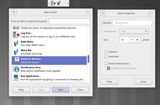 Ресурси за Debian:
Изтегляне на пакет-източник mate-panel.
Отговорници:
Външни препратки:
Подобни пакети:
launcher and docking facility for MATE
The MATE Panel is an essential part of the MATE Desktop, providing toolbar-like "panels" which can be attached to the sides of your desktop. They are used to launch applications and embed a number of other functions, such as quick launch icons, the clock, the notification area, volume controls and the battery charge indicator, and utilities ranging from weather forecast to system monitoring.
Други пакети, свързани с mate-panel
Изтегляне на mate-panel
Изтегляне за всички налични архитектури

| Архитектура | Големина на пакета | Големина след инсталиране | Файлове |
| --- | --- | --- | --- |
| amd64 | 473,6 кБ | 1 627,0 кБ | [списък на файловете] |
| arm64 | 443,7 кБ | 1 627,0 кБ | [списък на файловете] |
| armel | 402,5 кБ | 1 359,0 кБ | [списък на файловете] |
| armhf | 410,7 кБ | 1 139,0 кБ | [списък на файловете] |
| i386 | 506,1 кБ | 1 755,0 кБ | [списък на файловете] |
| mips | 416,6 кБ | 1 707,0 кБ | [списък на файловете] |
| mips64el | 416,9 кБ | 1 766,0 кБ | [списък на файловете] |
| mipsel | 423,6 кБ | 1 707,0 кБ | [списък на файловете] |
| ppc64el | 496,1 кБ | 2 239,0 кБ | [списък на файловете] |
| s390x | 438,7 кБ | 1 723,0 кБ | [списък на файловете] |