Пакет: wavbreaker (0.11-1 и други)
Връзки за wavbreaker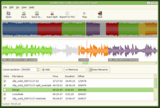 Ресурси за Debian:
Изтегляне на пакет-източник wavbreaker.
Отговорници:
Външни препратки:
Подобни пакети:
tool to split wave files into multiple chunks
This application's purpose in life is to take a wave file and break it up into multiple wave files. It makes a clean break at the correct position to burn the files to an audio cd without any dead air between the tracks.
Други пакети, свързани с wavbreaker
sug:

moodbar

Пакетът не е наличен
Изтегляне на wavbreaker
Изтегляне за всички налични архитектури

| Архитектура | Версия | Големина на пакета | Големина след инсталиране | Файлове |
| --- | --- | --- | --- | --- |
| armhf | 0.11-1+b2 | 105,8 кБ | 281,0 кБ | [списък на файловете] |