Пакет: sawfish (1:1.11.90-1.1)
Връзки за sawfish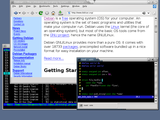 Ресурси за Debian:
Изтегляне на пакет-източник sawfish.
Отговорник:
Външни препратки:
Подобни пакети:
window manager for X11
Sawfish is an extensible window manager using an Emacs Lisp-like scripting language. All window decorations are configurable, the basic idea is to have as much user-interface policy as possible controlled through the Lisp language.
Други пакети, свързани с sawfish
sug:

gnome-control-center

utilities to configure the GNOME desktop

sug:

menu

generates programs menu for all menu-aware applications

sug:

yelp

Help browser for GNOME
Изтегляне на sawfish
Изтегляне за всички налични архитектури

| Архитектура | Големина на пакета | Големина след инсталиране | Файлове |
| --- | --- | --- | --- |
| armhf | 463,5 кБ | 1 200,0 кБ | [списък на файловете] |