Пакет: zapping (0.10~cvs6-16)
Връзки за zapping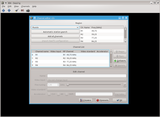 Ресурси за Debian:
Изтегляне на пакет-източник zapping.
Отговорник:
Външни препратки:
Подобни пакети:
television viewer for the GNOME environment
It is based on plugins. This will make it easy to add functionality to the program, without making it hard to maintain, such as saving video as AVI/MPEG, viewing mirrored TV (scanning from right to left) or whatever you can imagine (and program).
Други пакети, свързани с zapping
rec:

gconf2

GNOME configuration database system (support tools)
Изтегляне на zapping
Изтегляне за всички налични архитектури

| Архитектура | Големина на пакета | Големина след инсталиране | Файлове |
| --- | --- | --- | --- |
| armhf | 777,5 кБ | 2 357,0 кБ | [списък на файловете] |