Пакет: gwaei (3.6.2-5 и други)
Връзки за gwaei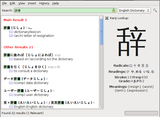 Ресурси за Debian:
Изтегляне на пакет-източник gwaei.
Отговорник:
Външни препратки:
Подобни пакети:
Japanese-English Dictionary for GNOME
gWaei is an easy to use and yet powerful full-featured dictionary program for Japanese to English translation. It organizes results by relevance, supports regex searches, tabs, spell checking, kanji handwriting recognition and an accompanying console version for searches through the terminal.
Други пакети, свързани с gwaei
font to view stroke order diagrams for Kanji, Kana and etc

rec:

hunspell-en-us

English_american dictionary for hunspell

rec:

mecab-ipadic

IPA dictionary compiled for Mecab
Изтегляне на gwaei
Изтегляне за всички налични архитектури

| Архитектура | Версия | Големина на пакета | Големина след инсталиране | Файлове |
| --- | --- | --- | --- | --- |
| armhf | 3.6.2-5+b1 | 188,2 кБ | 809,0 кБ | [списък на файловете] |