Пакет: gucharmap (1:11.0.3-2)
Връзки за gucharmap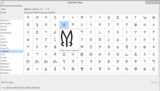 Ресурси за Debian:
Изтегляне на пакет-източник gucharmap.
Отговорници:
Външни препратки:
Подобни пакети:
Unicode character picker and font browser
This program allows you to browse through all the available Unicode characters and categories for the installed fonts, and to examine their detailed properties. It is an easy way to find the character you might only know by its Unicode name or code point.
Други пакети, свързани с gucharmap
rec:

yelp

Help browser for GNOME
Изтегляне на gucharmap
Изтегляне за всички налични архитектури

| Архитектура | Големина на пакета | Големина след инсталиране | Файлове |
| --- | --- | --- | --- |
| armhf | 1 143,0 кБ | 4 111,0 кБ | [списък на файловете] |