Пакет: evolution (3.30.5-1)
Връзки за evolution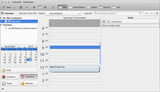 Ресурси за Debian:
Изтегляне на пакет-източник evolution.
Отговорници:
Външни препратки:
Подобни пакети:
groupware suite with mail client and organizer
Evolution is a groupware suite which integrates mail, calendar, address book, to-do list and memo tools.
Additional features include integration with Exchange servers, newsgroup client, LDAP support and web calendars
The following plugins belonging to the "base" set are included.

 - calendar-file
 - calendar-http
 - itip-formatter
 - default-source
 - addressbook-file
 - mark-all-read
 - publish-calendar
 - caldav
 - imap-features
 - google-account-setup
 - webdav-account-setup
 - calendar-weather
 - sa-junk-plugin
 - bogo-junk-plugin

Други пакети, свързани с evolution
Изтегляне на evolution
Изтегляне за всички налични архитектури

| Архитектура | Големина на пакета | Големина след инсталиране | Файлове |
| --- | --- | --- | --- |
| armhf | 292,0 кБ | 416,0 кБ | [списък на файловете] |