Пакет: licensecheck (3.0.31-3)
Връзки за licensecheck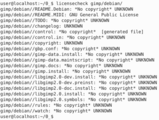 Ресурси за Debian:
Изтегляне на пакет-източник licensecheck.
Отговорници:
Външни препратки:
Подобни пакети:
simple license checker for source files
Licensecheck attempts to determine the license that applies to each file passed to it, by searching the start of the file for text belonging to various licenses.
Support for bash tab-completion requires the package bash-completion.
Други пакети, свързани с licensecheck
Изтегляне на licensecheck
Изтегляне за всички налични архитектури

| Архитектура | Големина на пакета | Големина след инсталиране | Файлове |
| --- | --- | --- | --- |
| all | 27,6 кБ | 75,0 кБ | [списък на файловете] |