Пакет: fwsnort (1.6.7-3)
Връзки за fwsnort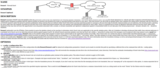 Ресурси за Debian:
Изтегляне на пакет-източник fwsnort.
Отговорник:
Външни препратки:
Подобни пакети:
Snort-to-iptables rule translator
Fwsnort translates Snort rules into equivalent iptables rules and generates a shell script that implements the resulting iptables commands.
This allows network traffic that matches Snort signatures to be logged and/or dropped by iptables directly without putting any interface into promiscuous mode or queuing packets from kernel to user space.
Други пакети, свързани с fwsnort
Изтегляне на fwsnort
Изтегляне за всички налични архитектури

| Архитектура | Големина на пакета | Големина след инсталиране | Файлове |
| --- | --- | --- | --- |
| all | 62,1 кБ | 234,0 кБ | [списък на файловете] |