Пакет: libreoffice-gtk2 (1:6.3.3-2~bpo10+1)
Връзки за libreoffice-gtk2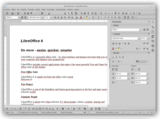 Ресурси за Debian:
Изтегляне на пакет-източник libreoffice.
Няма съвпадения
Отговорници:
Външни препратки:
Подобни пакети:
office productivity suite -- GTK+ 2 integration
LibreOffice is a full-featured office productivity suite that provides a near drop-in replacement for Microsoft(R) Office.
This package contains the Gtk plugin for drawing LibreOffices widgets with Gtk+ 2 and a Gtk/GNOMEish File Picker and print dialog when running under GNOME.
Други пакети, свързани с libreoffice-gtk2
enh:

libreoffice

office productivity suite (metapackage)
Изтегляне на libreoffice-gtk2
Изтегляне за всички налични архитектури

| Архитектура | Големина на пакета | Големина след инсталиране | Файлове |
| --- | --- | --- | --- |
| ppc64el | 203,5 кБ | 880,0 кБ | [списък на файловете] |