Пакет: python3-flask (2.2.2-3)
Връзки за python3-flask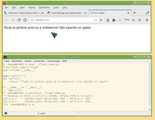 Ресурси за Debian:
Изтегляне на пакет-източник flask.
Отговорници:
Външни препратки:
Подобни пакети:
micro web framework based on Werkzeug and Jinja2 - Python 3.x
Flask is a micro web framework for Python based on Werkzeug, Jinja 2 and good intentions. A minimal Flask application looks like that:

  from flask import Flask
  app = Flask(__name__)


  @app.route("/")
  def hello():
      return "Hello World!"


  if __name__ == '__main__':
      app.run()

This package contains the Python 3.x module.
Други пакети, свързани с python3-flask
sug:

python-flask-doc

micro web framework based on Werkzeug and Jinja2 - documentation
Изтегляне на python3-flask
Изтегляне за всички налични архитектури

| Архитектура | Големина на пакета | Големина след инсталиране | Файлове |
| --- | --- | --- | --- |
| all | 102,6 кБ | 444,0 кБ | [списък на файловете] |