软件包: hgview-curses (1.5.0-4)
hgview-curses 的相关链接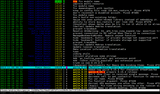 Debian 的资源:
维护小组:
外部的资源:
相似软件包:
mercurial interactive history viewer (text interface)
Its purpose is to easily navigate in a mercurial repository history. It has been written with efficiency in mind when dealing with quite big repositories.
This package installs the text interface. Note that the Qt interface is more complete than the text interface and provides more views.
其他与 hgview-curses 有关的软件包
enh:

mercurial

easy-to-use, scalable distributed version control system