Package: creox (0.2.2rc2-3 and others) [debports]
Links for creox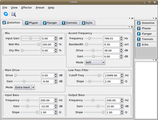 Debian Resources:
Download Source Package :
Not found
Maintainers:
Similar packages:
real-time guitar effects
Creox is a real-time sound processor. You can plug your electric guitar or any other musical instrument directly to the PC's sound card and start experimenting with various sound effects. Creox has a nice user-friendly GUI, a preset support, a low-latency DSP engine and each effect parameter can be altered "on the fly".
It can be connected to the JACK sound server (http://jackit.sf.net/), and. The output sound can be routed to the other JACK-aware applications and the input audio can be taken as the output from the other JACK client.
Other Packages Related to creox
dep:

kdelibs4c2a (>= 4:3.4.3-1)

Package not available

dep:

libart-2.0-2 (>= 2.3.16)

Library of functions for 2D graphics - runtime files

dep:

libaudio2

Network Audio System - shared libraries

dep:

libc6 (>= 2.3.5-1)

Embedded GNU C Library: Shared libraries
also a virtual package provided by libc6-udeb

dep:

libfontconfig1 (>= 2.3.0)

generic font configuration library - runtime

dep:

libfreetype6 (>= 2.1.5-1)

FreeType 2 font engine, shared library files

dep:

libgcc2 (>= 4.0.2)

GCC support library

dep:

libice6

X11 Inter-Client Exchange library

dep:

libidn11 (>= 0.5.18)

GNU Libidn library, implementation of IETF IDN specifications

dep:

libjack0.100.0-0 (>= 0.100.0)

Package not available

dep:

libjpeg62

Independent JPEG Group's JPEG runtime library (version 6.2)

dep:

libpng12-0 (>= 1.2.8rel)

PNG library - runtime

dep:

libqt3-mt (>= 3:3.3.5)

Package not available

dep:

libsm6

X11 Session Management library

dep:

libstdc++6 (>= 4.0.2-4)

GNU Standard C++ Library v3

dep:

libx11-6

X11 client-side library

dep:

libxcursor1 (>> 1.1.2)

X cursor management library

dep:

libxext6

X11 miscellaneous extension library

dep:

libxft2 (>> 2.1.1)

FreeType-based font drawing library for X

dep:

libxi6

X11 Input extension library

dep:

libxinerama1

X11 Xinerama extension library

dep:

libxrandr2

X11 RandR extension library

dep:

libxrender1 (>> 1:0.9.0-1)

X Rendering Extension client library

dep:

libxt6

X11 toolkit intrinsics library

dep:

zlib1g (>= 1:1.2.1)

compression library - runtime
Download creox
Download for all available architectures

| Architecture | Version | Package Size | Installed Size | Files |
| --- | --- | --- | --- | --- |
| m68k (unofficial port) | 0.2.2rc2-3+b1 | 282.6 kB | 772.0 kB | [list of files] |