Пакунок: iceweasel-vimperator (2.3.1-0+squeeze1)
Links for iceweasel-vimperator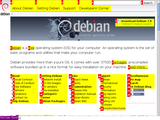 Debian Resources:
Download Source Package vimperator:
Maintainer:
External Resources:
Similar packages:
Iceweasel extension to make it have vim look and feel.
Vimperator is an iceweasel add-on, which makes it look and behave like the Vim text editor. It has similar key bindings, and you could call it a modal web browser, as key bindings differ according to which mode you are in.
Інші пакунки пов'язані з iceweasel-vimperator
dep:

iceweasel

Веб-оглядач заснований Firefox
Завантажити iceweasel-vimperator
Завантаження для всіх доступних архітектур

| Архітектура | Розмір пакунка | Розмір після встановлення | Файли |
| --- | --- | --- | --- |
| all | 531.4 kB | 1,724.0 kB | [список файлів] |