Paket: makepasswd (1.10-8)
Länkar för makepasswd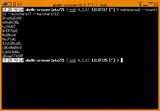 Debianresurser:
Hämta källkodspaketet makepasswd:
Ansvarig:
Liknande paket:
Generate and encrypt passwords
Generates true random passwords using /dev/urandom, with the emphasis on security over pronounceability. It can also encrypt plaintext passwords given in a temporary file.
Andra paket besläktade med makepasswd
Access to the OpenSSL pseudo-random number generator

interoperable MD5-based crypt() for perl

dep:

perl (>= 5.8)

Larry Walls "Practical Extraction and Report Language"
Hämta makepasswd
Hämtningar för alla tillgängliga arkitekturer

| Arkitektur | Paketstorlek | Installerad storlek | Filer |
| --- | --- | --- | --- |
| all | 12,3 kbyte | 67,0 kbyte | [filförteckning] |