Paket: dokuwiki (0.0.20120125b-2)
Länkar för dokuwiki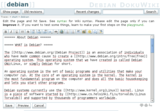 Debianresurser:
Hämta källkodspaketet dokuwiki:
Ansvariga:
Externa resurser:
Liknande paket:
standards compliant simple to use wiki
DokuWiki is a wiki mainly aimed at creating documentation of any kind. It is targeted at developer teams, workgroups and small companies. It has a simple but powerful syntax which makes sure the datafiles remain readable outside the wiki and eases the creation of structured texts. All data is stored in plain text files -- no database is required.
Andra paket besläktade med dokuwiki
Serve large static files efficiently from web applications
Hämta dokuwiki
Hämtningar för alla tillgängliga arkitekturer

| Arkitektur | Paketstorlek | Installerad storlek | Filer |
| --- | --- | --- | --- |
| all | 1.732,1 kbyte | 7.335,0 kbyte | [filförteckning] |