Paket: phpsysinfo (3.0.17-1)
Länkar för phpsysinfo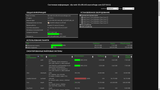 Debianresurser:
Hämta källkodspaketet phpsysinfo:
Ansvariga:
Externa resurser:
Liknande paket:
PHP based host information
phpSysInfo is a PHP script that displays information about the host being accessed.
It displays informations on the system like kernel version, uptime, network, disk and memory usage, informations on CPU and model, attached IDE and SCSI devices and PCI cards and lm-sensors output on architectures supporting it.
It has support for multiple languages and themes.
Andra paket besläktade med phpsysinfo
dep:

apache2

Metapaket för HTTP-servern Apache
också ett virtuellt paket som tillhandahålls av apache2-mpm-event, apache2-mpm-itk, apache2-mpm-prefork, apache2-mpm-worker

eller httpd

virtuellt paket som tillhandahålls av aolserver4-core, aolserver4-daemon, apache2-mpm-event, apache2-mpm-itk, apache2-mpm-prefork, apache2-mpm-worker, boa, bozohttpd, ebhttpd, lighttpd, micro-httpd, mini-httpd, nginx-extras, nginx-full, nginx-light, nginx-naxsi, nginx-naxsi-ui, ocsigen, ocsigenserver, tntnet, webfs, yaws

dep:

php5

server-side, HTML-embedded scripting language (metapackage)

dep:

php5-xsl

XSL module for php5
sug:

hddtemp

hard drive temperature monitoring utility

sug:

lm-sensors

utilities to read temperature/voltage/fan sensors
Hämta phpsysinfo
Hämtningar för alla tillgängliga arkitekturer

| Arkitektur | Paketstorlek | Installerad storlek | Filer |
| --- | --- | --- | --- |
| all | 462,2 kbyte | 1.843,0 kbyte | [filförteckning] |