Paket: catfish (0.3.2-2)
Länkar för catfish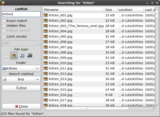 Debianresurser:
Hämta källkodspaketet catfish:
Ansvariga:
Externa resurser:
Liknande paket:
file search tool that support several different engines
A file search tool using different backends which is configurable via the command line.
This program acts as a frontend for different file search engines. The interface is intentionally lightweight and simple. But it takes configuration options from the command line.
Currently find, locate, tracker, strigi, pinot, and beagle are supported as backends.
Andra paket besläktade med catfish
rec:

python-xdg

Python library to access freedesktop.org standards
Hämta catfish
Hämtningar för alla tillgängliga arkitekturer

| Arkitektur | Paketstorlek | Installerad storlek | Filer |
| --- | --- | --- | --- |
| all | 32,1 kbyte | 308,0 kbyte | [filförteckning] |