Paket: smb4k (1.0.1-1)
Länkar för smb4k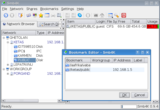 Debianresurser:
Hämta källkodspaketet smb4k:
Ansvariga:
Externa resurser:
Liknande paket:
Samba (SMB) share advanced browser for KDE
Smb4K is an advanced network neighborhood browser for KDE. It uses the Samba software suite to access the shares of the local network neighborhood. Its purpose is to provide a program that's easy to use and has as many features as possible.
Andra paket besläktade med smb4k
Hämta smb4k
Hämtningar för alla tillgängliga arkitekturer

| Arkitektur | Paketstorlek | Installerad storlek | Filer |
| --- | --- | --- | --- |
| mips | 3.174,3 kbyte | 6.921,0 kbyte | [filförteckning] |