Paket: tunapie (2.1.17-2.2)
Länkar för tunapie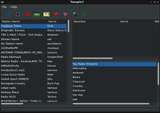 Debianresurser:
Hämta källkodspaketet tunapie:
Ansvarig:
Externa resurser:
Liknande paket:
Lists audio and video streams from Shoutcast and Icecast
A GUI based program for displaying Shoutcast or Icecast video and radio streams. It gives information about streams including bitrate, IP and current number of listeners. Streams can then be played using an appropriate media player, defined in preferences. Tunapie also allows streams to be recorded using streamripper. Recordings can be set to start and stop at specified times.
Andra paket besläktade med tunapie
Hämta tunapie
Hämtningar för alla tillgängliga arkitekturer

| Arkitektur | Paketstorlek | Installerad storlek | Filer |
| --- | --- | --- | --- |
| all | 47,0 kbyte | 174,0 kbyte | [filförteckning] |