Paket: roxterm (1.18.5-3)
Länkar för roxterm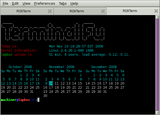 Debianresurser:
Hämta källkodspaketet roxterm:
Ansvarig:
Externa resurser:
Liknande paket:
Multi-tabbed GTK/VTE terminal emulator
ROXTerm is a terminal emulator based on the VTE library. It was originally intended to be a lightweight alternative to gnome-terminal, but its role has shifted to providing a richer range of features for power users. It can be used as a ROX application, as the name implies, but also integrates well with other X desktop environments such as GNOME.
Andra paket besläktade med roxterm
rec:

openssh-client

secure shell (SSH) client, for secure access to remote machines
Hämta roxterm
Hämtningar för alla tillgängliga arkitekturer

| Arkitektur | Paketstorlek | Installerad storlek | Filer |
| --- | --- | --- | --- |
| ia64 | 244,8 kbyte | 1.164,0 kbyte | [filförteckning] |