Paket: stterm (0.0~20091219+hg68-4)
Länkar för stterm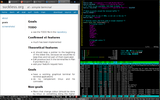 Debianresurser:
Hämta källkodspaketet stterm:
Ansvarig:
Externa resurser:
Liknande paket:
an extremely simple terminal for windowed system
Stterm is a bare bones terminal emulator developed with a focus on simplicity and clarity as the primary goals. It is very lightweight consuming only approximately (2+25 reserved+virtual) MiB memory. The suckless software project's philosophy is about keeping things simple, minimal and usable.
Andra paket besläktade med stterm
dep:

libc6 (>= 2.3)

Embedded GNU C Library: Shared libraries
också ett virtuellt paket som tillhandahålls av libc6-udeb

dep:

libx11-6

X11 client-side library
Hämta stterm
Hämtningar för alla tillgängliga arkitekturer

| Arkitektur | Paketstorlek | Installerad storlek | Filer |
| --- | --- | --- | --- |
| i386 | 15,2 kbyte | 96,0 kbyte | [filförteckning] |