Paket: emesene (1.6.3-1.1)
Länkar för emesene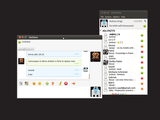 Debianresurser:
Hämta källkodspaketet emesene:
Ansvariga:
Externa resurser:
Liknande paket:
platform independent MSN Messenger client
emesene is a nice and simple MSN Messenger client. It tries to be similar to the official client, but with a simpler interface and a nicer look.
emesene allows you to chat with your contacts in the MSN network.
Andra paket besläktade med emesene
Hämta emesene
Hämtningar för alla tillgängliga arkitekturer

| Arkitektur | Paketstorlek | Installerad storlek | Filer |
| --- | --- | --- | --- |
| all | 2.669,0 kbyte | 6.605,0 kbyte | [filförteckning] |