Paket: circuslinux (1.0.3-27)
Länkar för circuslinux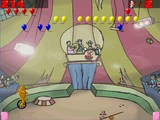 Debianresurser:
Hämta källkodspaketet circuslinux:
Ansvarig:
Externa resurser:
Liknande paket:
The clowns are trying to pop balloons to score points!
"Circus Linux!" is based on the Atari 2600 game "Circus Atari" by Atari, released in 1980. Gameplay is similar to "Breakout" and "Arkanoid" - you slide a device left and right to bounce objects into the air which destroy a wall.
Andra paket besläktade med circuslinux
Hämta circuslinux
Hämtningar för alla tillgängliga arkitekturer

| Arkitektur | Paketstorlek | Installerad storlek | Filer |
| --- | --- | --- | --- |
| amd64 | 39,7 kbyte | 188,0 kbyte | [filförteckning] |
| armel | 39,3 kbyte | 176,0 kbyte | [filförteckning] |
| i386 | 37,1 kbyte | 176,0 kbyte | [filförteckning] |
| ia64 | 49,9 kbyte | 368,0 kbyte | [filförteckning] |
| kfreebsd-amd64 | 39,3 kbyte | 126,0 kbyte | [filförteckning] |
| kfreebsd-i386 | 37,1 kbyte | 120,0 kbyte | [filförteckning] |
| mips | 41,4 kbyte | 188,0 kbyte | [filförteckning] |
| mipsel | 40,8 kbyte | 188,0 kbyte | [filförteckning] |
| powerpc | 39,6 kbyte | 180,0 kbyte | [filförteckning] |
| s390 | 39,5 kbyte | 180,0 kbyte | [filförteckning] |
| sparc | 39,1 kbyte | 176,0 kbyte | [filförteckning] |