Package: dmidecode (2.9-1.2)
Links for dmidecode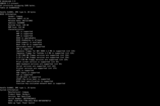 Debian Resources:
Download Source Package dmidecode:
Maintainer:
Similar packages:
Dump Desktop Management Interface data
The Desktop Management Interface provides a standardized description of a computer's hardware, including characteristics such as BIOS serial number and hardware connectors. dmidecode provides a dump of the DMI data available from the BIOS. It is used as a back-end tool by other hardware detection programs.
Other Packages Related to dmidecode
dep:

libc0.1 (>= 2.3) [kfreebsd-amd64, kfreebsd-i386]

Embedded GNU C Library: Shared libraries
also a virtual package provided by libc0.1-udeb

dep:

libc6 (>= 2.1) [i386]

Embedded GNU C Library: Shared libraries
also a virtual package provided by libc6-udeb

dep:

libc6 (>= 2.2.5) [amd64]

dep:

libc6.1 (>= 2.2) [ia64]

Embedded GNU C Library: Shared libraries
also a virtual package provided by libc6.1-udeb