Package: eog (3.8.0-2)
Links for eog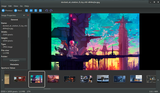 Debian Resources:
Download Source Package eog:
Maintainers:
External Resources:
Similar packages:
Experimental package
Warning: This package is from the experimental distribution. That means it is likely unstable or buggy, and it may even cause data loss. Please be sure to consult the changelog and other possible documentation before using it.
grafický prehliadač Eye of GNOME
eog alebo Eye of GNOME je jednoduchý prehliadač grafických súborov pre pracovné prostredie GNOME, ktorý používa knižnicu gdk-pixbuf. Dokáže pracovať s veľkými obrázkami a približovať a posúvať ich pri konštantnom využití pamäte. Cieľom je jednoduchosť a dodržiavanie štandardov.
Other Packages Related to eog
rec:

librsvg2-common

knižnica vykresľovača SVG súborv založená na SAX - ďalšie dynamické knižnice

rec:

yelp

Help browser for GNOME
Download eog
Download for all available architectures

| Architecture | Package Size | Installed Size | Files |
| --- | --- | --- | --- |
| alpha (unofficial port) | 2,895.3 kB | 9,579.0 kB | [list of files] |
| amd64 | 2,898.6 kB | 9,428.0 kB | [list of files] |
| armel | 2,878.8 kB | 9,340.0 kB | [list of files] |
| armhf | 2,879.9 kB | 9,240.0 kB | [list of files] |
| hurd-i386 | 2,892.2 kB | 9,416.0 kB | [list of files] |
| i386 | 2,898.6 kB | 9,416.0 kB | [list of files] |
| ia64 | 2,925.9 kB | 8,583.0 kB | [list of files] |
| kfreebsd-amd64 | 2,891.2 kB | 8,248.0 kB | [list of files] |
| kfreebsd-i386 | 2,890.7 kB | 8,236.0 kB | [list of files] |
| mips | 2,871.4 kB | 9,460.0 kB | [list of files] |
| mipsel | 2,870.4 kB | 9,460.0 kB | [list of files] |
| powerpc | 2,870.5 kB | 9,392.0 kB | [list of files] |
| s390 | 2,899.5 kB | 9,472.0 kB | [list of files] |
| s390x | 2,898.3 kB | 9,497.0 kB | [list of files] |
| sparc | 2,871.5 kB | 9,350.0 kB | [list of files] |