Package: xzgv (0.9+svn40-1)
Links for xzgv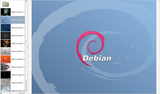 Debian Resources:
Download Source Package xzgv:
Maintainer:
Similar packages:
Visualizador de imagens para o X com um selector baseado em miniaturas
xzgv é um visualizador de imagens para X, com um selector de ficheiros baseado em miniaturas. A maioria dos formatos de ficheiros são suportados, e as miniaturas usadas são compatíveis com with xv, zgv, e The Gimp. Também pode ser usado com 'ficheiro(s) do xzgv', para um bypass efectivo ao selector de ficheiros. Para mais em como o xzgv funciona e como usá-lo, faça `info xzgv' ou `man xzgv' após estar instalado.
O xzgv difere dos outros visualizadores de imagens para X no modo que usa uma janela para ambos selector de ficheiros e visualizador, permite (ao contrário do xv) ambos métodos de deslocamento e 'caber-na-janela' de visualizar grandes imagens, e (ao contrário do xv e outros visualizadores) nem sequer modifica o rácio de aspecto da imagem.
Também disponibiliza suporte extensivo ao teclado; se preferir usar o teclado, este é certamente o melhor visualizador para si. Mas também não põe de parte as funções do rato.
Note que este programa é escrito pelo autor do "zgv" baseado em svgalib, e tem funcionalidades semelhantes.
Home Page: http://sourceforge.net/projects/xzgv
Other Packages Related to xzgv
Download xzgv
Download for all available architectures

| Architecture | Package Size | Installed Size | Files |
| --- | --- | --- | --- |
| kfreebsd-i386 | 148.8 kB | 262.0 kB | [list of files] |