Pakket: nethogs (0.8.0-1)
Verwijzigingen voor nethogs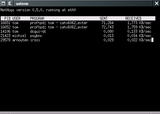 Debian bronnen:
Het bronpakket nethogs downloaden:
Beheerder:
Externe bronnen:
Vergelijkbare pakketten:
Net top tool grouping bandwidth per process
NetHogs is a small 'net top' tool. Instead of breaking the traffic down per protocol or per subnet, like most tools do, it groups bandwidth by process. NetHogs does not rely on a special kernel module to be loaded.
Andere aan nethogs gerelateerde pakketten
nethogs downloaden
Pakket downloaden voor alle beschikbare platforms

| Platform | Pakketgrootte | Geïnstalleerde grootte | Bestanden |
| --- | --- | --- | --- |
| amd64 | 28,7 kB | 124,0 kB | [overzicht] |
| armel | 25,7 kB | 120,0 kB | [overzicht] |
| armhf | 24,3 kB | 85,0 kB | [overzicht] |
| i386 | 27,3 kB | 116,0 kB | [overzicht] |
| ia64 | 39,1 kB | 200,0 kB | [overzicht] |
| mips | 29,1 kB | 144,0 kB | [overzicht] |
| mipsel | 28,7 kB | 144,0 kB | [overzicht] |
| powerpc | 29,2 kB | 140,0 kB | [overzicht] |
| s390 | 30,6 kB | 136,0 kB | [overzicht] |
| s390x | 32,3 kB | 129,0 kB | [overzicht] |
| sparc | 27,3 kB | 128,0 kB | [overzicht] |