Pakket: unetbootin (575-1)
Verwijzigingen voor unetbootin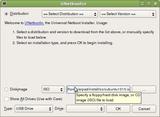 Debian bronnen:
Het bronpakket unetbootin downloaden:
Beheerder:
Externe bronnen:
Vergelijkbare pakketten:
installeren van Linux/BSD-distributies op een partitie of USB-schijf
Met UNetbootin kunt u verschillende Linux/BSD-distributies installeren op een partitie of USB-schijf. Het enige verschil met een standaardinstallatie is dat er geen cd nodig is. U kunt een besturingssysteem naast een bestaand besturingssysteem installeren of een bestaand besturingssysteem volledig vervangen.
Andere aan unetbootin gerelateerde pakketten
rec:

extlinux

collection of boot loaders (ext2/3/4 and btrfs bootloader)

translations for the unetbootin distribution installer