Pakket: vttest (2.7+20100528-1)
Verwijzigingen voor vttest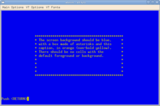 Debian bronnen:
Het bronpakket vttest downloaden:
Beheerder:
Externe bronnen:
Vergelijkbare pakketten:
tool for testing VT100 compatibility of terminals
This package provides a program designed to test the functionality of a VT100 terminal (or emulator). It also supports analysis of VT220, VT420, and xterm.
The program is menu-driven and contains full on-line operating instructions. It tests both display (escape sequence) and keyboard handling.
Andere aan vttest gerelateerde pakketten
dep:

libc0.1 (>= 2.3) [kfreebsd-amd64, kfreebsd-i386]

Embedded GNU C Library: Shared libraries
Ook een virtueel pakket geboden door: libc0.1-udeb

dep:

libc6 (>= 2.3) [amd64, i386, mips, mipsel]

Embedded GNU C Library: Shared libraries
Ook een virtueel pakket geboden door: libc6-udeb

dep:

libc6 (>= 2.4) [armel, powerpc, s390]

dep:

libc6 (>= 2.6) [sparc]

dep:

libc6.1 (>= 2.3) [ia64]

Embedded GNU C Library: Shared libraries
Ook een virtueel pakket geboden door: libc6.1-udeb
vttest downloaden
Pakket downloaden voor alle beschikbare platforms

| Platform | Pakketgrootte | Geïnstalleerde grootte | Bestanden |
| --- | --- | --- | --- |
| amd64 | 83,7 kB | 200,0 kB | [overzicht] |
| armel | 74,0 kB | 208,0 kB | [overzicht] |
| i386 | 73,6 kB | 216,0 kB | [overzicht] |
| ia64 | 109,3 kB | 464,0 kB | [overzicht] |
| kfreebsd-amd64 | 83,8 kB | 208,0 kB | [overzicht] |
| kfreebsd-i386 | 73,5 kB | 184,0 kB | [overzicht] |
| mips | 79,6 kB | 292,0 kB | [overzicht] |
| mipsel | 79,7 kB | 292,0 kB | [overzicht] |
| powerpc | 81,1 kB | 236,0 kB | [overzicht] |
| s390 | 82,3 kB | 240,0 kB | [overzicht] |
| sparc | 77,8 kB | 224,0 kB | [overzicht] |