Pakket: listen (0.6.5-4)
Verwijzigingen voor listen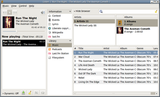 Debian bronnen:
Het bronpakket listen downloaden:
Beheerder:
Externe bronnen:
Vergelijkbare pakketten:
music player and manager for GNOME
Listen is an audio player which helps you to organize your music collections.
It supports many features such as Podcasts management, browse Shoutcast directory, and provides direct access to lyrics, lastfm and wikipedia information.
It intuitively creates playlists for you by retrieving information from lastfm and what you most frequently listen to.
Andere aan listen gerelateerde pakketten
GStreamer-plug-ins uit de "bad"-set

sug:

icecast2

Ogg Vorbis and MP3 streaming media server
MPEG Layer III Streaming Server

sug:

libtunepimp5

MusicBrainz tagging library

sug:

python-sexy

Pakket niet beschikbaar