Pakket: mozilla-nukeimage (0.3-11)
Verwijzigingen voor mozilla-nukeimage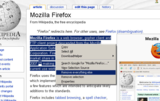 Debian bronnen:
Het bronpakket nukeimage downloaden:
Beheerder:
Externe bronnen:
Vergelijkbare pakketten:
Mozilla context menu option to remove image from display
The Nuke Image extension for Mozilla adds a "Remove this image" context menu option to all images. When this option is selected, the image is removed from the displayed page layout. It's useful for quickly getting rid of annoying animated graphics or intrusive advertisements.
Andere aan mozilla-nukeimage gerelateerde pakketten
dep:

iceweasel

Web browser based on Firefox
Iceape Navigator (Internet browser) and Composer

of firefox

Pakket niet beschikbaar

of abrowser

Pakket niet beschikbaar

of mozilla-firefox

Pakket niet beschikbaar

of mozilla-browser

Pakket niet beschikbaar

of mozilla-browser-snapshot

Pakket niet beschikbaar

of xulrunner-1.9

Pakket niet beschikbaar
XUL + XPCOM application runner