Pakket: blackbox (0.70.1-2.2)
Verwijzigingen voor blackbox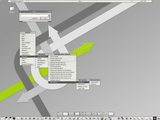 Debian bronnen:
Het bronpakket blackbox downloaden:
Beheerders:
Vergelijkbare pakketten:
Window manager voor X
Dit is een Window manager voor X. Deze is in veel opzichten vergelijkbaar met populaire pakketten zoals Window Maker, Enlightenment and FVWM2. Dit pakket kan interessant zijn wanneer je genoeg hebt van window managers die veel computercapaciteit vergen, maar je toch een attractieve en moderne gebruiksomgeving wilt.
Als klap op de vuurpijl is het programma in C++ geschreven is, zodat het achter de schermen nog mooier is dan wanneer je er gewoon naar kijkt en mee werkt -- en dat is niet zomaar iets.
Indien het bovenstaande je niets zegt of wanneer je computer best op Windows 98 mag lijken, dan heb je dit pakket waarschijnljk niet nodig.
Andere aan blackbox gerelateerde pakketten