Pakket: netmask (2.3.12)
Verwijzigingen voor netmask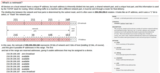 Debian bronnen:
Het bronpakket netmask downloaden:
Beheerder:
Vergelijkbare pakketten:
helps determine network masks
This is a tiny program handy if you work with firewalls or routers occasionally (possibly using this as a helper for shell scripts). It can determine the smallest set of network masks to specify a range of hosts. It can also convert between common IP netmask and address formats.
Andere aan netmask gerelateerde pakketten
dep:

dpkg (>= 1.15.4)

Debian package management system

of install-info

Manage installed documentation in info format

dep:

libc0.1 (>= 2.3)

Embedded GNU C Library: Shared libraries
Ook een virtueel pakket geboden door: libc0.1-udeb
netmask downloaden
Pakket downloaden voor alle beschikbare platforms

| Platform | Pakketgrootte | Geïnstalleerde grootte | Bestanden |
| --- | --- | --- | --- |
| kfreebsd-i386 | 19,9 kB | 50,0 kB | [overzicht] |