Pakket: slang-wildcard (0.5.0-2)
Verwijzigingen voor slang-wildcard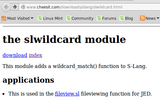 Debian bronnen:
Het bronpakket slwildcard downloaden:
Beheerders:
Externe bronnen:
Vergelijkbare pakketten:
adds a wildcard match function to S-Lang
The S-Lang module contained in this package provides a wildcard_match() function to S-Lang. It's vectorized, so it should be faster than an array_map(&string_match, ... ). This module can be used in slsh (the S-Lang shell), in the JED editor, and in the news reader slrn.
Andere aan slang-wildcard gerelateerde pakketten
dep:

libc6 (>= 2.1.3)

Embedded GNU C Library: Shared libraries
Ook een virtueel pakket geboden door: libc6-udeb

dep:

libslang2 (>= 2.0.7-1)

De S-Lang programmeerbibliotheek - uitvoerbare versie